Belonging and being connected are fundamental human needs. Parag Tandel, an archipelagic archivist, has a deep connection to the unique culture, history, and environment of the islands, which fuels his passion for preserving and documenting the rich heritage present in the Koli community he belongs to. Tandel is passionate about preserving these distinctive identities and works to close the gap between the past and the present so that future generations can respect and benefit from the customs and narratives that characterise these island nations.
In the midst of the constant din of new construction, it is easy to forget that Mumbai was once an archipelago of seven islands. For centuries, the Kolis, the indigenous inhabitants of these lands and waters, have stewarded the vibrant ecology. Artist Parag Tandel, member of 'Koli' community himself, archives the rich culture of the Kolis alongside networks of kinship between the community and coastal ecosystems in his ongoing solo exhibition at TARQ, Mumbai curated by Shaunak Mahbubani.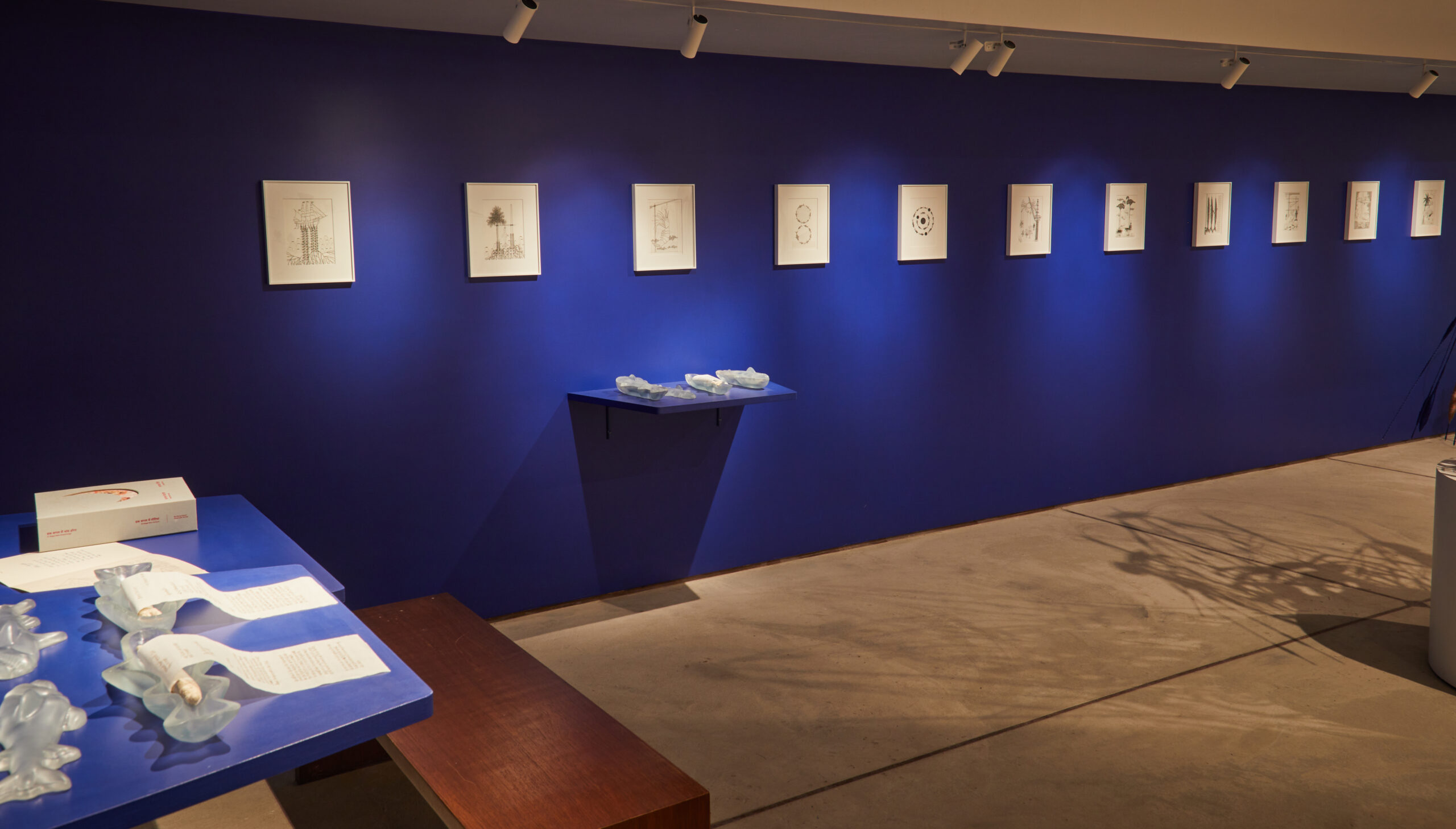 Parag Tandel's artworks at TARQ, Mumbai.
The Kolis, who have passed down knowledge through oral literature, have been left out of the process of writing their own history. Tandel presents new bodies of sculpture that are inspired by complex food habits, atypical fishing style, and religious traditions in an effort to redress this historical erasure. Instead of using imperial methods of documentation like maps and ledgers, the artist turns to the world of effect to produce a unique kind of archiving that connects with the history of his people.The exhibition showcases Parag Tandel's latest series, which explores the intersection of rich varieties of colours and textures. Tandel's unique artistic style, characterised by vibrant hues, captivates viewers and invites them to interpret the artwork in their own way.
Through his work, Tandel strives to showcase the interconnectedness of these island communities and their unique contributions to our culture and heritage. His works bring a sense of grounding and appreciation for the often overlooked histories and traditions of archipelagos.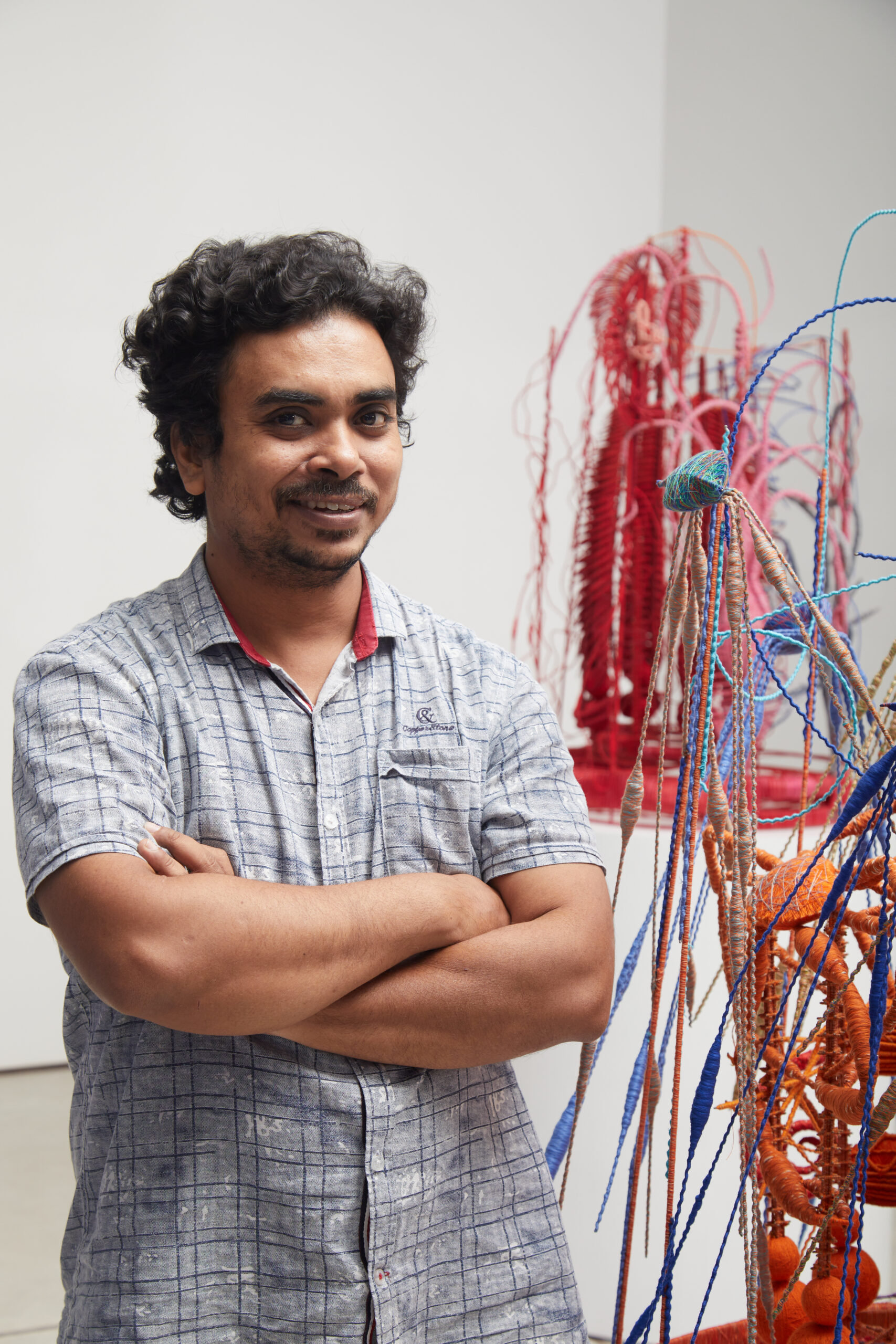 Parag Tandel at TARQ, Mumbai.
Tandel's meticulous research and attention to detail in his artefacts provide a tangible link to the past, allowing present and future generations to understand and cherish the cultural legacy of these island communities. His dedication to archiving and promoting archipelagic heritage serves as a reminder of the importance of preserving diverse cultures and fostering a global appreciation for the richness of our history.
Nomadic curator and writer, Shaunak Mahbubani (they/she), based between Berlin and India. Those who essentially work on projects for the exhibition series "Allies for the Uncertain Futures," which illustrates synergies for collectively envisioning the future while rooted in the pursuit of non-duality. In context to his presentation of Parag Tandel's works, the curator suggests, "The method of archiving that Parag has developed can be seen within the context of what Caribbean philosopher Édouard Glissant has called archipelagic thinking—one that balances acts of belonging with ways of being in relation to the world, that is "rooted and open, in harmony and in errantry." Presenting a solo show after seven years, Parag's practice has undergone a significant development, particularly in his immersion in material culture, which simultaneously channels his Koli ancestry and engages with the city's rapidly changing environment and the larger global climate crisis.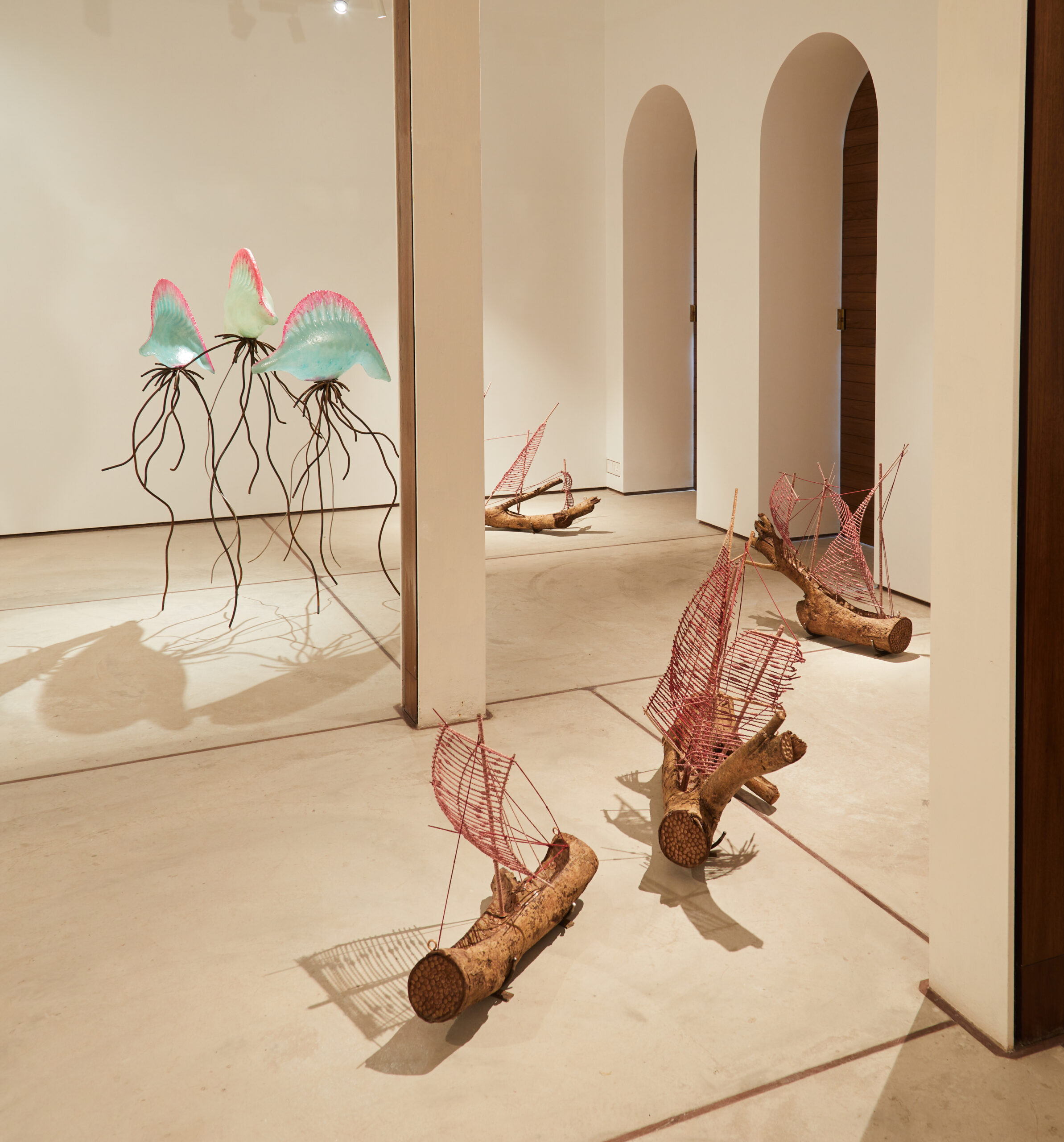 Parag Tandel's installations at TARQ, Mumbai.
This evolution in Parag's practice is evident in his exploration of diverse mediums and techniques, as well as his engagement with socio-political issues. His solo show not only showcases his artistic growth but also serves as a platform for critical conversations surrounding identity, heritage, and environmental concerns. This exhibition showcases Parag's ability to embrace archipelagic thinking, as he navigates his own identity and heritage while also engaging with pressing global issues. Through his exploration of material culture and his Koli ancestry, Parag's work invites viewers to reflect on the interconnectedness of local and global contexts, urging us to consider our own roles in shaping the world we inhabit.
Tracing a route from the arrival of the Portuguese to the current coastal road development, Tandel brings us into contact with a range of interconnected stories. In sculptures fashioned from the Jambul tree, we encounter the effects of 17th century policies that outlawed age- old Jambul wine making processes. In addition, we are introduced to recipes gathered from Koli kitchens, a food culture that is currently in jeopardy due to rapid unplanned urbanisation and ocean pollution, in the limited edition publication "Ek Bagal Mein Chand Hoga Ek Bagal Mein Rotiyan", highlighting the culinary traditions that have been passed down through generations. These stories shed light on the cultural and historical significance of the coastal region, showcasing the resilience and adaptability of its people in the face of changing times.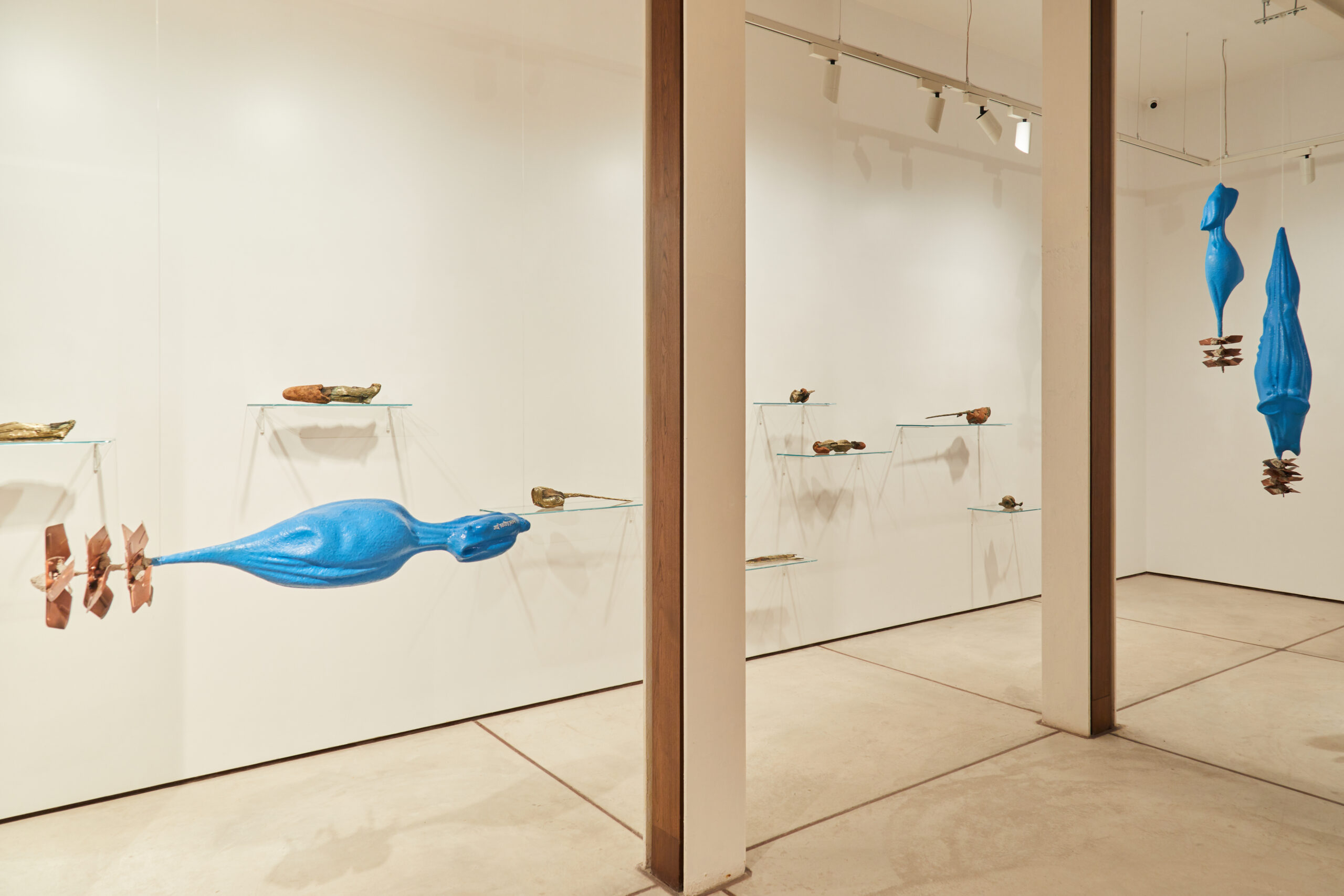 Parag Tandel's installations at TARQ, Mumbai.
The artist is passionate about fostering new opportunities as well, and not just focusing on history, a series of 13 intricate mixed-media sculptures called "Into The Bones" was created through an innovative collaboration with metalwork artists from Chhattisgarh's Bastar region. The exhibition concludes with a collection of euphoric thread sculptures that combine the typical armatures of the Koli faith with the dynamic energy of the ocean and all of its inhabitants, calling out to the next generation – 'भरालk' which are talismans used to to cast spells and enchant interspecies futures along the coast. These sculptures serve as a visual representation of the rich cultural heritage and artistic prowess of both the Bastar region and Chhattisgarh.
Expertly navigating the complexities of island ecosystems with a fusion of indigenous techniques and contemporary themes creates a thought-provoking narrative that highlights the importance of harmony between humans and nature, urging viewers to contemplate the future of our coastal ecosystems. In his presentation at TARQ, Parag Tandel invites viewers to visit the waterways of the former Bombai archipelago, where tides carry the force of joy, sorrow, and tenacious hope. Tandel moves poetically between islands of time and material metaphor.
Tandel's art not only showcases the physical beauty of the waterways but also delves into the emotional depths that they hold. His skillful portrayal of joy, sorrow, and hope in his artwork creates a profound connection between viewers and the archipelago's history.
Words by Keshvi Kamdar.
Images Courtesy of TARQ, Mumbai.