The romance of snowfall is unparalleled; when droplets of water crystallise into angelic forms, creating a sheath of white all around you in Gulmarg, Kashmir — one can't help but fall in love. The Khyber, Gulmarg is one such idyllic destination that allows you to soak in this magic in the lap of luxury. Known for its panoramic views of the Affarwat Peaks and evergreen valleys that turn into shades of divinity in the winter months, The Khyber has been the choice of the one percent of India's population that seeks a higher standard of living. From Mukesh Ambani spending time with his family at the Khyber, to Mouni Roy taking a vacation here, its list of elusive guests keeps on growing.
While skiing has been regarded as the sport of the affluent all over the world, India's very own Gulmarg valley offers poetic vistas and slopes for ski connoisseurs to indulge in this sport. The slopes aren't for the faint hearted – and these daunting planes can challenge even the most experienced skier. With direct access to ski slopes, The Khyber is sought after by the ski community of India – who bring to life the international concept of "apres ski" or post-ski lifestyle in the comforting warmth of this luxury hotel. There's nothing like a dip in the heated pool of the property post a hectic skiing day followed by hot and steaming kehwa by the French windows, as you watch the theatrical choreography of the powder whiteness unfold.
And if you aren't a fan of the winter sport – the resort is in the seat of many other activities that can be enjoyed in the epitome of luxury throughout the year. "The Khyber truly embodies the magnificence of Gulmarg. Guests can enjoy a host of activities such as ATV rides, mountain biking, gondola rides, horse riding, rock climbing, trout fishing, photography safaris and jeep excursions throughout spring and summer. For the adventurous, the most exhilarating is the hike to the frozen Alpather Lake, at the base of the Apharwat peak at 4200m; for once you get there, it is a sight to behold," says Umar Tramboo, managing director of Pinnacle Resorts – the owning company of The Khyber.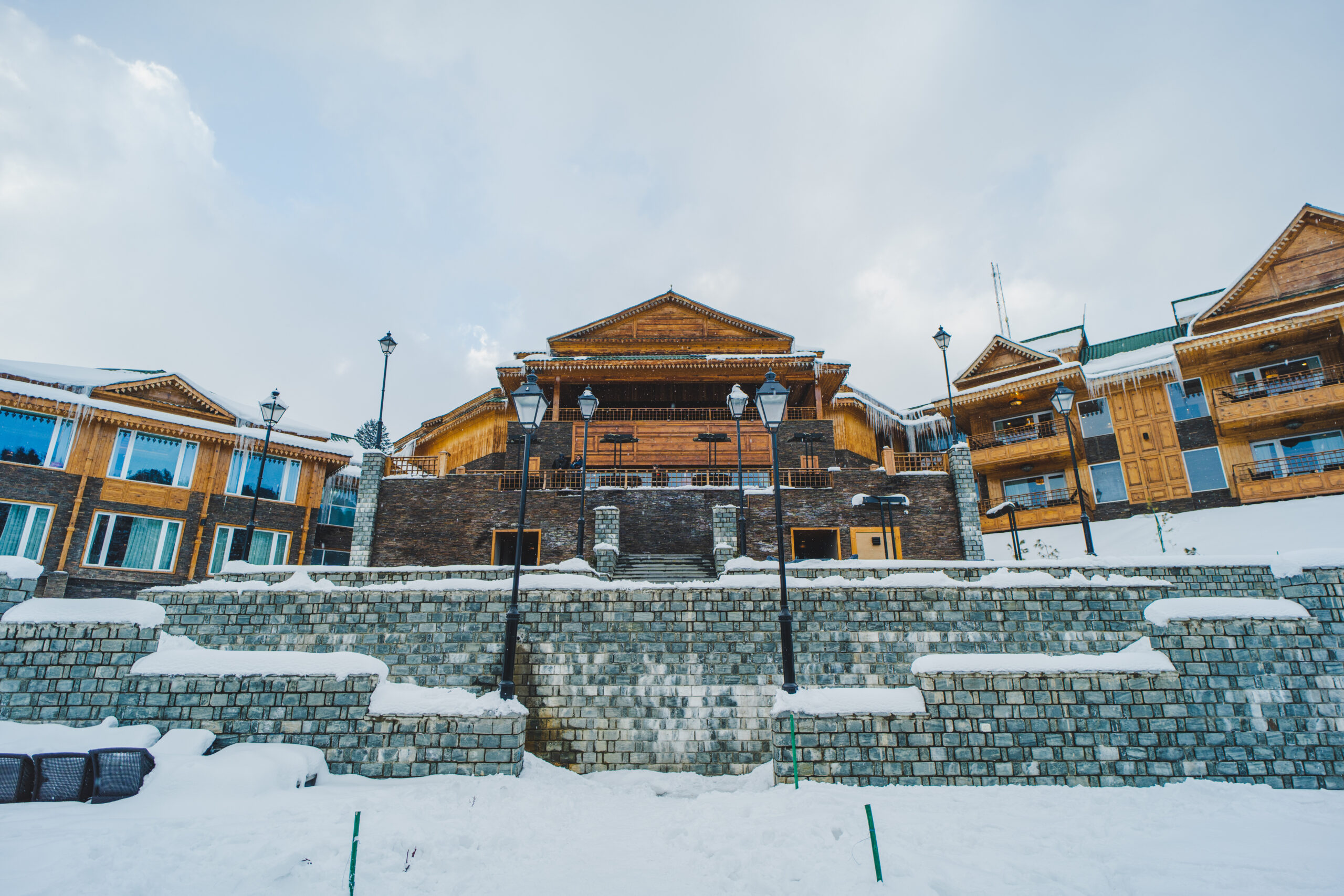 The interiors at the Khyber are designed with traditional materials and showcase fine Kashmiri crafts. Namdas (traditional Kashmiri rugs) of felted wool, silk carpets from local looms, furnishings embellished with crewel embroidery, carved walnut panelling, teakwood floors and papier mache accents draw upon Kashmir's rich heritage of craftsmanship.
Spread over seven unspoilt, fir-laden acres, the resort has been around for almost a decade now, and has become a benchmark of luxury hospitality – not just in the country but internationally as well.
Words by Shrey Sethi.
Images by Zulkarnain Dev.