The 212th anniversary of Mexican Independence is being celebrated at Bengaluru's gallery g with a one of its kind exhibition of photographs to commemorate the event.
A photograph that shows a couple sitting together and holding hands with two dogs one on the lady's lap and one in between them is one of the key images seen at an exhibition that pays homage to two iconic artists of Mexico, Frida, and Diego. If you are wondering why the dogs are important, well they accompanied Diego Rivera and Frida Kahlo throughout their lives. Some went down with them in history, such as the famous Xoloitzcuintle dog, called Mr. Xolotl, in honor of a deity of pre-Hispanic Mexico.
Diego Rivera and Frida Kahlo with their Xoloitzcuintle dogs, in the Blue House.
Mexico Calling
The exhibition is an initiative of the Embassy of Mexico in India, the National Institute of Fine Arts and Literature (INBAL) of Mexico and Museo Casa Estudio Diego Rivera y Frida Kahlo who have come together to showcase a photographic exhibition called 'Diego & Frida: Life Chronicles'. As part of the show, there are 60 photo reprints on display for the first time in India while the original photographs are displayed at the Museo Casa Estudio Diego Rivera y Frida Kahlo in Mexico. Gitanjali Maini, Founder & Managing Director, gallery g, says, "each year around Mexican National Day (16th September) the Embassy of Mexico in India attempts to promote and popularize their culture in India through outreach events. They were looking for an appropriate space to display these photographs and requested the honorary consul to suggest a venue that would do justice to the importance of this exhibition."
The Arty Couple
For the uninitiated, Diego Rivera and Frida Kahlo are an integral part of Mexican art history. The couple married in August 1929 and were together for over 25 years until Frida's death. The couple however had a tumultuous relationship that included a flurry of events that ranged from extra marital affairs and messy fights that became public knowledge. Diego Rivera and Frida Kahlo also painted each other for 25 years. Frida was best known for her self-portraits while Diego Rivera was an important artist in the Mexican mural movement. After the romantic union of Kahlo and Rivera, their home became a place where intellectuals, politicians, and celebrities came together to deliberate and comment about the social and political life of Mexico. The couple also lived intermittently in the United States and returned to Mexico and separated towards the end of 1939 but got remarried a year later in San Francisco. This was when there was much activity and enthusiasm as Rivera was instrumental in the Mexican government's decision to grant León Trotsky's final asylum. The couple also spent time with André Breton, the founder of Surrealism, resulting in the promise of an exhibition which would take Frida Kahlo to Paris in 1939.
The life story of Frida Kahlo and Diego Rivera is as intriguing as it is interesting. "We believe that art and its appreciation have no boundaries. The Indian audience is highly educated and intelligent. Frida Kahlo is a globally recognized name and inspires curiosity among the art circles; so, stories of her life and the impact of her nationalist sensibilities on her art are bound to interest people. The subject and story being told through this exhibition is most special. We are just delighted to see the number of people who are interested to know and understand more about their lives," says Maini. Interestingly, the period when the couple lived is also a time that was important in the post-colonial history of Mexico, where art and revolution came together to leave behind some stunning artworks that are part of contemporary Mexican identity even to date.
L-R: Diego Rivera and Frida Kahlo in Mardonio Magaña´s house in Xochimilco; Frida and Diego in Coyoacán, Mexico City, 1943.
Images That Tell Stories
At the show, there are a series of black and white imagery that depict important aspects of the lives of the couple. On display are images like 'Diego Rivera and Frida Kahlo in Mardonio Magaña´s house in Xochimilco', which is a contemporary print that shows that the couple promoted the sculptor's work Mardonio Magaña, peasant and wood carver and quarry. His work was part of important collections, among them, that of Francisco Iturbe, patron, and collector. In the image, Rivera holds a sculpture by Magaña titled Diego on horseback. Likewise, the image, 'Diego Rivera and Frida Kahlo walking in front of the cactus fence at their studio house' shows their return to Mexico at the beginning of 1934 when they moved into the new studio house in San Angel. That year Rivera was offered an exhibition wall at the Palace of Fine Arts to paint the mural that had been destroyed at the Rockefeller Center in New York. He named it 'The Man who Controls the Universe'. Frida Kahlo started work in her studio in San Angel where she painted some of her most emblematic works such as 'What the Water Gave Me' and 'The Two Fridas' (1939).
L-R: Frida Kahlo typing a letter dictated by Diego Rivera; Diego Rivera and Frida Kahlo walking in front of the cactus fence at their studio house.
There is also an image where Frida Kahlo appears typing a letter dictated by Diego Rivera on May 11, 1933, two days after the suspension of the muralist's work at Rockefeller Center. The tycoon had commissioned a mural for the building in the heart of the financial center of the United States. Rivera produced a work entitled The Man at the Crossroads of All Paths contemplates with uncertainty, but with hope and high spirit the path to choose towards a better future.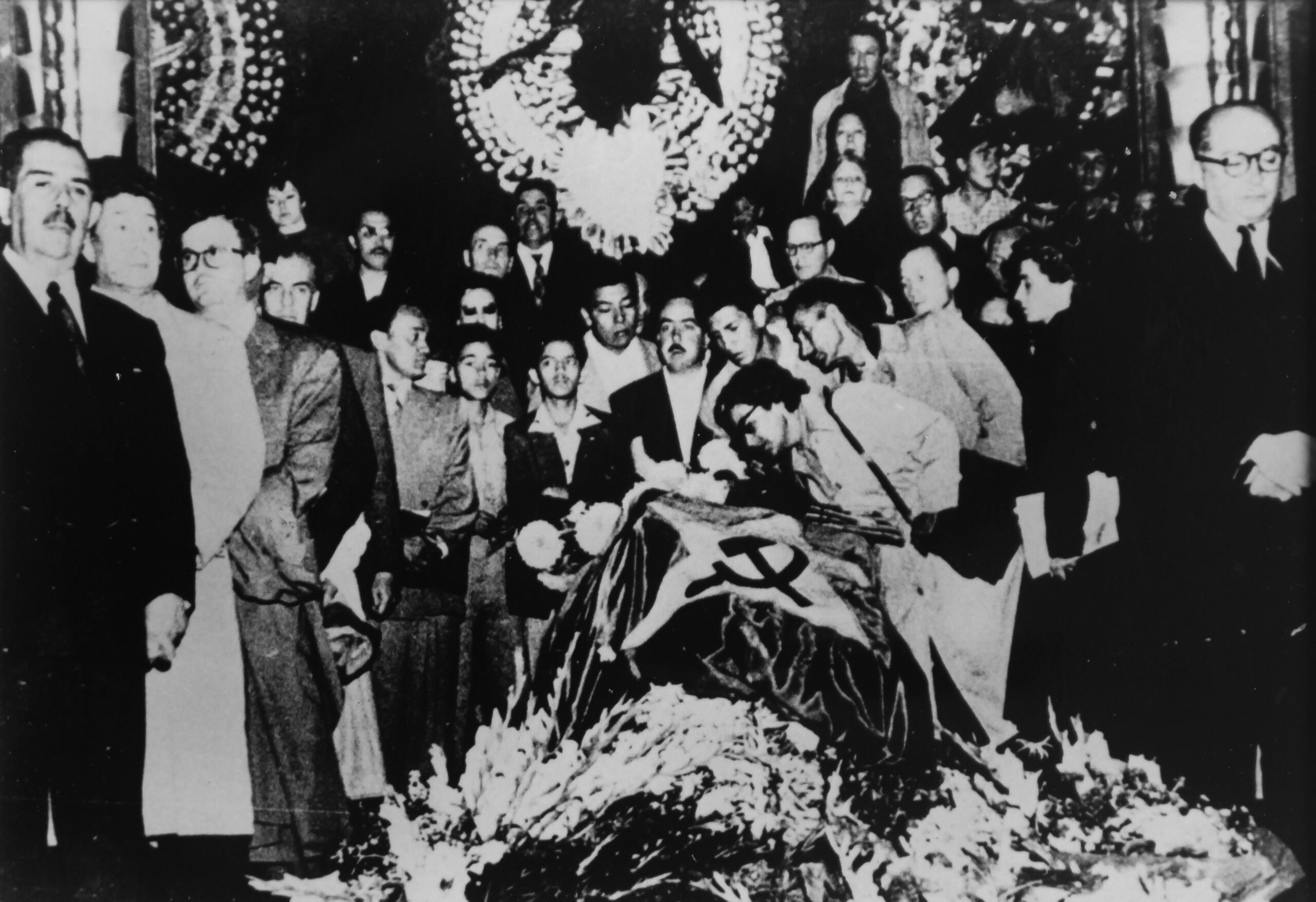 However, the contract would be canceled, and the mural destroyed because the figure of the communist leader Vladimir Lenin appeared. The image, 'Funeral of Frida Kahlo', shows the coffin with the body of Frida Kahlo covered by the Mexican flag. A group of supporters of the Mexican Communist Party placed the party's flag in its place, which led to the dismissal of the director of the National Institute of Fine Arts, Andres Iduarte. Over the years, the couple created a network of artists and intellectuals who eventually became the face of their modern country. A couple who loved, betrayed, and loved each other again, certainly make for an interesting story that has been perfectly captured in the images here. And if that got you thinking, you must head to see the exhibition that is all about their complex marriage and relationship that eventually was love actually.
This exhibition of photographs is being showcased in Bengaluru's gallery g and will be on display from 11th September to 10th October 2022.
Words by Bindu Gopal Rao.
Images via Gallery G.